SPORTS
Water Sports
Bali is a popular scuba and snorkeling destination, famous among divers for its marinelife, superb visibility, and sensational drop-offs. It was on Bali that drift diving became popular, following the development of techniques to accommodate the deep ocean currents surrounding the island. The spectacular Menjangan Wall in the northwest part of the island is commensurate with northern Sulawesi's Bunaken.
A great number of dive operators offer gear, tanks, wetsuits, lunch, transport, experienced dive masters, excellent Balinese-style accommodations.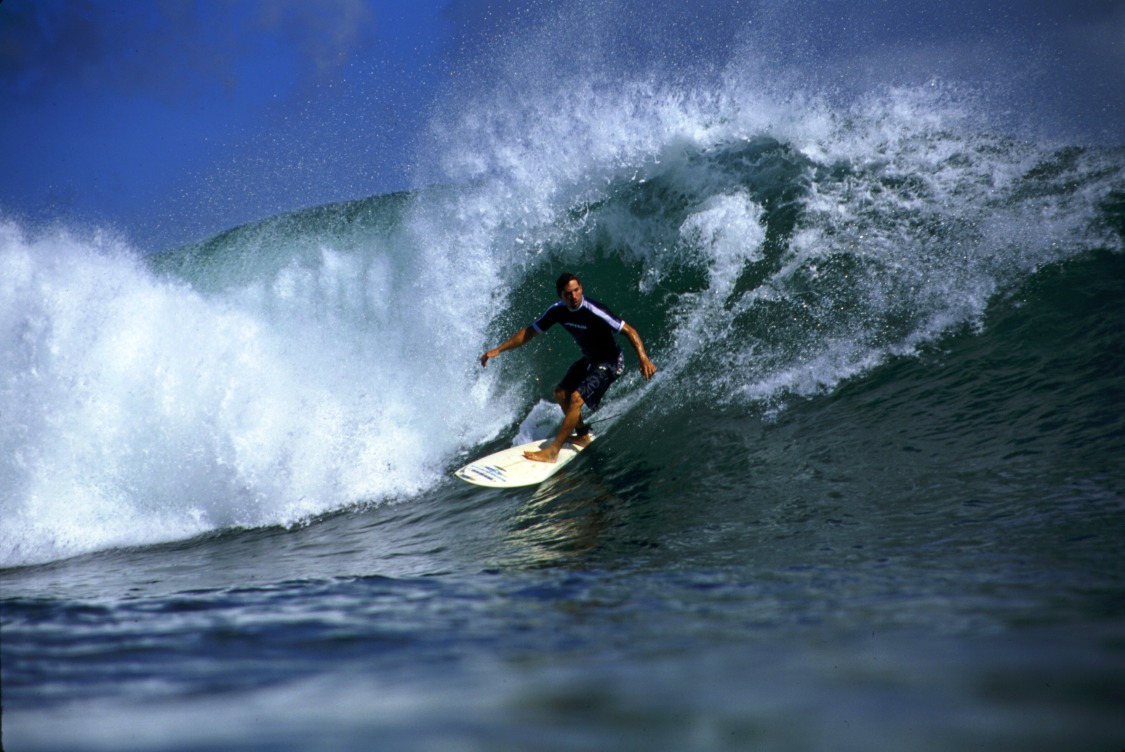 The surf breaks for which Bali is famous are at Uluwatu and Padang, best when the southeast winds blow onshore during the dry season. During the wet (Jan.-March) surfers nip over to the other side of Bukit Peninsula to Nusa Dua, Sri Lanka, and Sanur where the wind will be offshore. Surfing is the big attraction of the offshore island of Nusa Lembongan; three of Indonesia's most outstanding surf breaks are here.
One of Bali's nicest and least known beaches--with good swimming and warm water--is located next to the airport in Tuban and Jimbaran. Off Kuta Beach the waves can be very deceptive; seven or eight people drown each year, caught in the vicious undertows. For your own safety, swim only between the clearly marked red and yellow flags, and don't swim deeper than your body length. Lifesavers constantly patrol the beach during daylight. Never swim after sunset.
You can enjoy dolphin-watching in the early morning in Candidasa and Lovina. Catering to Japanese demand, fleets of game fishing boats are based in Benoa, Bali's main port. One of the favorite sportfishing spots for wahoo, Spanish mackerel, and tuna is under the awesome 100-meter-high cliffs of Nusa Penida.
A wonderful diversion is Rafting Tours, down the 11-km-long Ayung River; you'll find brochures on hotel reception desks all over Bali. With four, five, or six persons per raft, the Class III trip runs about two hours through Bali's last original rainforest--a botanist's delight. The price includes a big, delicious catered buffet. Just dangerous enough to be scary but definitely not life-threatening.


Cockfighting
Fights have been declared illegal by Muslim Indonesians but still take place on the sly in almost every village, usually in the mornings. Ask around to find them. They may coincide with upacara temple ceremonies and festivals. You see only men at the cockfights, though tourist women may attend tourist fights.
Fighting cocks are given the greatest loving care, massaged, bathed, and trained every day. Their feathers, combs, and wattles are trimmed so they won't provide a beakhold for opposing birds. The owner concentrates on the bird's diet and strives to develop a lean and tireless fighter. Pet, mascot, child, dream, income, the owner always carries the bird around the courtyard and to the warung or clubhouse. Their bell-shaped wicker cages are placed at roadsides so the cocks may be amused by passersby.
Two cocks eager to fight are decided upon, then bets are placed. A village will put as much as a million rupiah on its favorite cock. Then the fight is blessed. Evil spirits receive offerings that will hopefully satisfy them and ensure a good harvest. The birds are teased by their handlers--tails pulled, feathers ruffled, palm wine spit down their throats, all intended to arouse the fighting spirit. The trainers then tie a sharp scissor blade to each cock's stronger leg. The birds are riled up some more, then let go. Predominantly a male-bonding event, the crowd is fused in a single gesticulating, shouting, hysterical body. The fight is often finished in 15-20 seconds. The cocks display amazing ferocity even when crippled. If both refuse to continue they're put inside an upside-down basket, where one almost always kills the other. Often a badly wounded cock can be revived by artificial respiration or special massages. Then it will fight again, and win.

Bull Races
Outside Negara in western Bali, thrilling regional water buffalo races (mekepung) are held on the Sunday before Indonesia's Independence Day, and again every other Sunday each September and October. Only the island's handsomest, sleekest bulls--which are not used for plowing or as beasts of burden--are chosen to compete. After extensive training, the huge beasts are dressed up in silk banners with painted horns and big wooden bells. Each team is judged for speed, strength, color, and style. Like Roman charioteers they come thundering down to the finish line, whipping and shouting, mud flying. Jockeys twist the tails of the bulls to gain speed. Much gambling. This festival is staged to please the harvest god. The winning bulls are used for stud and fetch up to twice the market value when sold.

Golf
One of the world's top 50 golf courses is on the grounds of the Bali Handara Kosaido Country Club in Pancasari near Lake Bratan. Judged fifth in the world for technical design and service, this 18-hole championship course features tall trees and flowers in riotous colors separating the fairways. Other fine golf courses are at the Bali Beach Hotel in Sanur and at Nusa Dua.

Running
Begger's Bush, tel. (0361) 975-009, on the right in Campuan just after the bridge when coming from Ubud, is the headquarters of the Bali chapter of the Asia-wide Hash House Harriers, a running club. Your host, Victor Mason, who runs barefoot with his two dogs, steps larger than life out of a Somerset Maugham short story. Victor also escorts amateur ornithologists through the fertile countryside surrounding Ubud on his very entertaining and informative "Bali Bird Walks."