As there are no international agreements in place between the US and the Czech Republic regarding free emergency medical care, we recommend that you purchase travel medical insurance prior to traveling.
In the case of an emergency, you should call for an ambulance; the toll-free number is 155; try to have a Czech-speaking person assist you with the call. In case of emergency or an accident use any hospital, health clinic or the Nemocnice na Homolce Hospital (foreign pavilion) - Praha 5, Roentgenova 2, phone 5727-2144; 5727-2146.
In Prague, there are several hospitals with English-speaking doctors that cater to foreigners; you will need to pay a fee for a visit to any of them. Here are a few numbers to call:
ˇ American Medical Center - Praha 7, Janovskeho 48, phone 2080-7756
ˇ Canadian Medical Care - Praha 6, Veleslavinska 30, phone 3536-0133, (24-hr. service): 3536-5297
ˇ First Medical Clinic of Prague - Praha 2, Vysehradska 35, phone 2492 1884
ˇ Na Homolce Hospital Policlinic for Foreigners, Praha 5, Roentgenova 2: 5292-2146
ˇ Health Center Prague - Praha 1, Vodickova 28, phone 2422 0040
ˇ Unicare - Praha 6, Na Dlouhem lanu 11, phone 3535 6553
ˇ General Health Care Corporation - Praha 1, Krakovska 8, phone 2221 1206
ˇ Dental Emergencies: 24 22- 76 63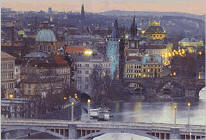 DRUGS
Even over-the-counter drugs like aspirin need to be purchased in a pharmacy, LÉKÁRNA in Czech. Pharmacies that stay open 24 hours a day are listed near the front of the yellow pages phone directory under Lekarny s nepretrzitou pohotovostni sluzbou. One 24-hour pharmacy near the center is Lekarna U Andela, Stefanikova 6, Prague 5, near the Andel metro stop (Tel. 5732-0918).
[onlytours.com/includes/footer.htm]