The Flag:
The National Flag of Greece consists of four white and five blue alternating horizontal stripes, with a white cross on the upper inner corner. Blue and white are the national colours of
Greece
.


Greece
in the world:
Greece is a member of UN, IMF, CSCE, and other major Western and European institutions such as the OECD, NATO, WEU, Council of Europe and the European Community which she joined in 1981. The country's commitment to the European Union enjoys overwhelming political support.
Education:
Greece
spends 4.5% of its GDP on education, which is compulsory for nine years and free of charge at all levels in any state institution.

Welfare: Two main social insurance organisations known by their Greek acronyms as IKA (for labourers) and OGA (for farmers) cover more than 80% of the working population.
Money.
The euro, our new currency

Euro is the currency of Greece already since 1 January 2001.
On 1 January 2002 euro banknotes and coins will be put in circulation; thus it will become possible to effect all payments in euro, irrespective of size, although drachma banknotes and coins can also be used for payments until 28 February. Drachma banknotes and coins will cease to be legal tender (i.e. generally acceptable means of payment) as from 1 March 2002 and from that date onwards all payments must be effected in euro.
Euro banknotes embody state-of-the-art security features. You can read more about this in a public information leaflet circulated by the Bank of Greece.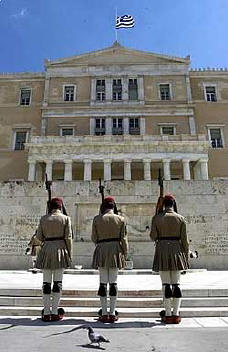 2. How will the public and firms get hold of euro banknotes and coins?

As of 17 December 2001 banks will make available to the public starter kits with euro coins at a price of 5,000 drachmas.
From 1 January 2002 euro banknotes will be available:

- at the counters of commercial banks and of the Bank of Greece, and
- at ATMs (automatic teller machines)

Furthermore,

- salaries and social benefits will be paid in euro, and
- firms will give change in euro, whenever possible.

In addition, firms can be frontloaded by their banks with euro coins from 1 November 2001 and with low-denomination euro banknotes (5 and 10 euro) from 1 December 2001.
However, it is forbidden to put euro banknotes and coins into circulation prematurely, i.e. before 1 January 2002. The law provides for penalties for offenders.

3. How will drachma notes and coins be withdrawn from circulation?

Drachma notes and coins will circulate alongside euro notes and coins until 28 February 2002 (inclusive).

- The public can deposit drachma cash with their banks, as bank accounts will be converted into euro automatically by 31 December 2001.
- Until 28 February 2002 the public can exchange drachma cash for euro at commercial banks, free of charge.

After the end of the dual circulation period (28 February 2002) the public will still be able to exchange any remaining drachma banknotes for another 10 years (until 1 March 2012) at the Bank of Greece and any remaining drachma coins for 2 years (until 1 March 2004) at the Bank of Greece and Tax Offices.

4. The euro cent has value

The euro conversion rate of the drachma is: 1 euro=340.750 drachma. One euro is subdivided into 100 euro cent.
A euro cent does not represent negligible value: The 1 euro cent coin corresponds to 3 drachmas, the 10 euro cent coin represents 34 drachmas and the 50 euro cent coin is worth 170 drachmas.
To convert drachmas into euro we divide the drachma amount by 340.750 and then we round to the nearest euro cent. Alternatively, to convert euro into drachmas we multiply the euro amount by 340.750 and then round to the nearest drachma.

5. Useful advice to the public
Get informed about the denominations and the visual appearance of the euro banknotes and coins and familiarise yourself with their security features.

Deposit with your bank or use up all your drachma cash holdings, especially coins, by the end of 2001.

Buy starter kits with euro coins from

17 December 2001

and start using the coins on

1 January 2002

. Starter kits are not collector items: use the coins in every-day payments. But don't forget that you should not use euro coins (nor, of course, euro banknotes) before

1 January 2002

.

Avoid mixing euro banknotes and coins with drachma banknotes and coins in your payments.

Pay the exact price, whenever possible.

Try to avoid the rush, by exchanging at the banks or depositing remaining drachma cash before or after the first days of January 2002.

Before the end of the dual circulation period use up any remaining national coins of other euro area countries (e.g. Deutsche Marks, French Francs, etc.) or exchange them at the corresponding national central bank (in Germany, France, etc.) or donate them to charity.


Currency Conversion (in euro)

Euro Zone:
| | | |
| --- | --- | --- |
| Country | Currency | Euro |
| Greece | GRD | 340,750 |
| Austria | ATS | 13,7603 |
| Belgium | BEF | 40,3399 |
| Finland | FIM | 5,94573 |
| France | FRF | 6,55957 |
| Germany | DEM | 1,95583 |
| Ireland | IEP | 0,787564 |
| Italy | ITL (100) | 1936,27 |
| Luxemburg | LUF | 40,3399 |
| Netherlands | NLG | 2,20371 |
| Portugal | PTE | 200,482 |
| Spain | ESP | 166,386 |

Other Currencies:
| | | |
| --- | --- | --- |
| Country | Currency | Euro |
| Australia | AUD | 1,7136 |
| Canada | CAD | 1,4027 |
| Cyprus | CYP | 0,57620 |
| Denmark | DKK | 7,4306 |
| Japan | JPY (100) | 115,83 |
| Norway | NOK | 7,9120 |
| Sweden | SEK | 9,2141 |
| Switzerland | CHF | 1,4705 |
| United Kingdom | GBP | 0,61350 |
| USA | USD | 0,8817 |
You can also exchange currency at any exchange bureau.

Credit Cards
All major Credit Cards as well as Euro-cheques are recognized and accepted in most hotels, shops, travel and car rental agencies and restaurants. Stickers in the front windows will advise you as to which cards are acceptable.

In case of loss or theft of your credit card call immediately:
Access


24 hour service
Tel.: 010 9503673

American Express

Mon-Fri.:08:30-16:00
Sat.:

08:00-13:00


Tel.: 010 3244975
24 hour service
Tel.: 00 441273526840

Citicard (Citibank)


24 hour service
Tel.: 010 9290000

Diners


24 hour service
Tel.: 010 9290200

Eurocard/Mastercard


24 hour service
Tel.: 010 9503673

Visa International


24 hour service
Tel.: 010 9503673 Tel.: 00 800 11 6380304

TRAVELLER'S CHEQUES issued by all the major companies are widely recognized. You can cash your traveller's cheques in all Greek and foreign banks, exchange bureaus and big hotels, but do not forget to have your passport with you. Identification is necessary for the transaction.

Flora and Fauna The flora of all the regions of our country is the richest in Europe, following the Iberian peninsula's, with more than 6.000 species and subspecies, of which 700-750 are indigenous, that is they can be found only within the boundaries of the greek territory. Greece is the richest country in Europe in indigenous vegetation.

Equally rich is the variety of fauna species living, nesting, propagating or migrating in the greek regions, and particularly 116 mammal species, 422 fowling species and sizable fish fauna (of the 579 fish species of the Mediterranean Sea, the 447 have been registered in the greek seas).

Electric Current



The standard in Greece is 220V AC (50Hz). Appliances from

North America

require a transformer and British ones an adaptor.
We recommend that you pack one together with your electrical appliance, so that you do not have to spend valuable time looking for adaptors and transformers during your stay.

Time



Greek time is two hours ahead of Greenwich Mean Time, an hour ahead of Central European Time and seven hours ahead of Eastern Standard Time. Along with the rest of continental Europe, the clock is advanced one hour during summer -from the end of March to the end of September- almost a month earlier than the UK, the US and Canada. Therefore keep in mind that the time difference with these countries is one hour greater for some weeks in April and October.
If you want to find out what is the exact time call 141 (recorded message in Greek).

Public Holidays



New Year's Day: January 1st
Epiphany: January 6th. The seas around Piraeus are blessed. A Cross is thrown into the sea and young men dive to retrieve it.
Ash Monday: 41 days before Easter. Lent begins. On Ash Monday, Greeks fly kites, eat lenten food and celebrate the koulouma.
Independence Day and the Feast of the Annunciation: March 25th , Military parade.
Easter: Good Friday-Easter Monday. Vesper evening is on Good Friday and every church decorates an Epitaphios (bier). The Epitaphios processions, followed by people holding lit candles and chanting hymns, fill the streets of every city, town and village in the country.
Anastasi (Resurrection): celebrated with fire-works and lit candles at

midnight

, on the eve of Easter Day. Pascha (Easter): on that Day Greeks traditionally eat lamb, spit-roasted on charcoal. The festivities include singing and dancing through the day.
Labour Day: May 1st . Many Flower Festivals take place all over Greece.
Whit Monday: 50 days after Easter.
Dormition (Assumption) of The Virgin: August 15th .
October 28th: rejection of the Italian ultimatum in 1940. Military parade.
Christmas: December 25th -26th.

Telephone



OTE (the Hellenic Telecommunications Organization) offices are the cheapest way to make local or international calls. To do so, just walk in and wait for a booth to be free.
At the end of the call, the desk operator will present you with a bill. OTE offices are open from 08:00 to 14:00.
Local and international calls can also be made from public cardphone booths and kiosks (periptera) equipped with meters.
Telecards can be purchased from kiosks and OTE offices.

Postal Service



Signs denoting post offices are usually bright yellow, as are post-boxes.
If you need to send a letter there are stamp vending machines and post-boxes outside all central post offices. Parcels sent abroad must be inspected, so do not wrap and seal them beforehand. Brown paper, soft padded envelopes and cardboard boxes can be bought at the post offices themselves.

What to Wear



You are expected to dress in a respectable manner when visiting churches and monasteries: long trousers for men, sleeved dresses and no miniskirts for women.

Instructions for Safe Driving



While travelling on the National Highway, if you spot a dead or wounded animal please contact emergency telephone 171 (Panafon network subscribers should dial 9-171). If you are in regions out of Athens please call any of the following numbers: (010) 3235 307, (010) 3235 455, (010) 3235 465, (010) 3235 496, (010) 3235 513,
(010) 3236 610, (010) 3236 608, (010) 3237 356.
Thank you for your sensitivity to keep the roads safe. Have a pleasant trip.