Geography
Rugged highlands are found throughout most of the country, they range from approximately 1,000 to 2,000 meters (3,000 to 6,000 feet above sea level). The Cordillera de Guanacaste, Cordillera Central, and Cordillera de Talamanca are the principal mountain ranges extending the length of the country. There are several active volcanoes (Volcán Arenal, Volcán Irazú, Volcán Rincón de la Vieja and Volcán Turrialba) and the country´s highest mountain (Cerro Chirripó) which reaches a height of 3,819 m/12,530 ft. The country has a relatively long coastline in both the Atlantic and Pacific oceans, as well as a number of rivers and streams that attract expert kayakers and rafters.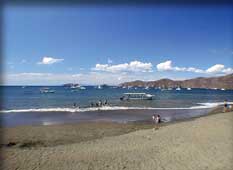 Climate
Costa Rica´s year round climate is pleasant with naturally occurring breezes cooling down most of the coastal areas. Temperatures in the highlands and the mountains are warm by day and brisk at night giving an "eternal spring" feeling. The average annual temperatures range from 31.7°C (89°F) on the coast to 16.7°C (62°F) inland. The rainy, or green, season lasts from May to December with noticeably drier days during the rest of the year.
Fun in the sun, but with caution
Going to the beach is a must when traveling to Costa Rica and a nice suntan is always possible. It is not advisable however, to try to tan in just one day because it takes 24 to 48 hours for the skin to produce melenin, a dark pigment that reduces the aging process caused by sunburn. The healthier option is to prepare yourself with a PABA-free suntan or sun blocking lotion containing a high level of protection.