Attractions
Quito
The capital of Ecuador is arguably the most beautiful city in South America. Located 2850m (9350ft) above sea level and just 22km (14mi) south of the equator, it boasts a wonderful springlike climate in a spectacular setting. Vistas in Quito are dominated by mountains, with several snowcapped volcanoes standing sentinel in the distance; the city itself sits at the foot of 4700m (15,400ft). Architecturally, Quito has plenty of colonial treasures, and modern building has been strictly controlled in the old town since 1978, when it was declared a world cultural heritage site by UNESCO. The old center is full of whitewashed houses, red tiled roofs and colonial churches, with no flashing neon to disrupt the ambiance of the past. The northern part of the city is the new town, containing modern offices, embassies, shopping centers and airline offices.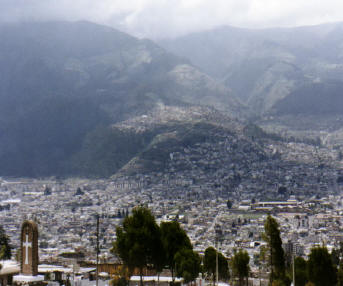 Major sights around town include the 16th century Monastery of San Francisco, Ecuador's oldest church; the stark 16th century cathedral; the beautifully preserved colonial-era alley of La Ronda; and El Panecillo (the little bread loaf), a hill with fabulous views of the old town and an enormous statue of the Virgin of Quito. There are a number of decent museums, colonial churches and impressive plazas, as well as an open-air Indian market at the foot of El Panecillo.
Bustling Avenida Amazonas, the showpiece street of modern Quito, is a good place to stop in a sidewalk cafe and watch life go by. Of special interest to those whose fancies tend towards all things slick and slithery, the Vivarium on Reina Victoria in new town is a museum dedicated to the appreciation and study of Ecuador's reptiles and amphibians. To the delight of herpetologists, it houses a number of live specimens, including iguanas, tortoises, turtles, frogs, boa constrictors and the infamous fer-de-lance, one of South America's most poisonous snakes.
Budget hotels can be found in the Santo Domingo area and on La Ronda. The best mid-range hotels and eateries are found in new town.
Travelers should exercise caution at markets and bus stations and in heavily touristed areas, as robbery is commonplace. El Panecillo, El Tejar, Parroquia San Sebastian, Mariscal Sucre, Avenida Cristobal Colón and Gonzalez Suarez are all relatively risky places to hang out, especially after dark.
Otavalo
The small town of Otavalo is famous for its Saturday Indian market, which dates back to pre-Inca times. The market is a colorful, festive affair, and the Otaveleños who host it do so in their traditional dress. Remarkably, this is not some sham fancy-dress affair put on for the sake of the visiting gawkers. Otaveleño men sport calf-length white trousers, rope sandals and reversible blue/gray ponchos and wear their hair in long ponytails. The women wear colorfully embroidered blouses, long black shirts and shawls, and necklaces and bracelets of blown-glass beads. Though only one-third of the region's inhabitants are white or mestizo, most of the Indians live in villages outside of Otavalo and come to town only for market day.
Otaveleños use traditional backstrap looms to create their clothes and tapestries. Their work is so much in demand these days that the Indians have opened shops across Ecuador and now sell directly to galleries and stores in the US and Europe. There are three main plazas in which to see the market in full swing. Poncho Plaza is the main one for crafts, and you'll find a good variety of wool blankets, scarves, ponchos and tapestries. Bargaining at the market is elevated to something of an art.

Otavalo is two to three hours north of Quito by bus. Taxis are the only other way to get to Otavalo from Quito.
Avenue of Volcanoes
The long valley south of Quito, leading to Cuenca, is flanked by two parallel mountain ranges containing some of the country's wildest scenery and nine of its 10 highest peaks. Half of Ecuador's population lives in this valley, tilling its rich volcanic soil. The area is peppered with isolated Indian villages, where lifestyles seem to have changed little over the centuries, and each community displays distinct styles of traditional dress.
Larger towns - such as Saquisilí, Pujillí, Zumbagua, Sigchos and San Miguel de Salcedo - swell with villagers on market days. The peaceful community of Salinas is known for its homemade dairy products, salamis and woolen handicrafts. Many of these villages are only accessible on foot. The Panamerican Highway, which runs the length of the valley, provides spectacular views along the way.
Cuenca
Founded by the Spanish in 1557, Cuenca is the third-largest city in Ecuador and one of the prettiest. The old center has scads of churches and homes dating from the 16th and 17th centuries lining its ankle-bending cobblestoned streets. The majority of the hotels are found near the old center, which makes Cuenca a great place to spend a few days relaxing in the colonial atmosphere. Note that Cuencans are more conservative than even the people of Quito - you'll find you attract attention if you don't dress and act accordingly. When you've had enough of the quaint and colonial, take the 50km (31mi) trip north to the Inca fortress of Ingapirca, Ecuador's best preserved precolonial ruin.
Cuenca is about 11 hours south of Quito by bus. The local airport has daily flights to the capital and to Guayaquil. The highways accessing the town are not in particularly good shape, and the railway station has been closed for some time.
Oriente Province
This large region in the lowlands of the Amazon basin has huge areas of rainforest and lures visitors interested in natural history, ecology, tropical habitats, indigenous tribes, birdwatching and jungle treks. Sadly, unscrupulous tour guides also lead excursions into 'primitive' Indian communities, most of which involve insensitive tourists gawking at 'real' Indians. Avoid these. The main service towns in the region are Macas, Puyo, Tena, Coca and Lago Agrio. The village of Mishahuallí, near Tena, is a good place to organize jungle tours. The Oriente is divided into northern and southern halves by the Río Pastaza.
Almost all roads in the southern Oriente are unpaved and subject to landslides and other delays during the rainy season - June to August are the worst months. Don't plan too tight a schedule if you visit during the rains. Late August and December through February are the best times to visit. The northern Oriente's road system and its connections to the capital are much more user friendly. There are two roads to Quito, several buses, a system of motorized canoes and six times as many flights as there are to the south.