London
England's capital city, London, brims with culture and is filled with artistic and architectural triumphs. It is a bustling, growing and varied metropolis with magical museums, great galleries, gourmet restaurants, clubs, nightlife and a diverse range of outstanding theater and music--all waiting for you, all year round.
London has three international airports offering direct flights from the US: Heathrow, Gatwick and Stansted, which all offer quick and easy transfers to London. Where to stay? Choose from luxury international five-star hotels, more modest guest houses or private-home stays, "boutique" townhouse hotels, apartments offering every amenity, or youth hostels for those on a budget--there's something for everyone.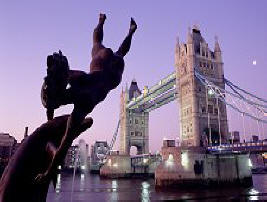 Take a sightseeing tour or explore on your own--getting around in London is easy with its system of buses and trains, and on the London Underground (The Tube).
London's Neighborhoods
London is made up of many varied and quite distinct districts, all offering a unique selection of attractions, places to stay and numerous places to eat: Bankside, stretches from Southwark Bridge to just beyond Tower Bridge, enhancing both old and new London. Look out for The Tower of London, the new Millennium Bridge, Shakespeare's Globe Theater, the Tate Modern, Southwark Cathedral, and plenty of fashionable shops and restaurants at Hay's Galleria.
Bloomsbury, the area surrounding the British Museum and the University of London, was established in the 18th century and still has strong literary and academic associations. Camden, northeast of Regents Canal is home to charming residential streets also dating from the 18th century, but don't miss the lively market at Camden Lock, Camden Town's bars, cafes, pubs and nightclubs, or the Zoo. Over in the southwest, Chelsea is synonymous with the Swinging 60''s. Boasting a strong artistic and literary history, it's an attractive residential area with a great selection of art galleries, high-fashion boutiques, antique shops and restaurants.
Chinatown, is a small vibrant area around Gerard Street with numerous Chinese restaurants and food shops. The City of London, in the east, is built on the site of the original Roman settlement and is now London's financial district--think Wall Street--currently enjoying a revival of new modern hotels, restaurants and wine bars, amidst the older "classics": St Paul's Cathedral, The Old Bailey and The Bank of England. The old flower, fruit and vegetable market at Covent Garden is no longer there, but in its place you'll find one of the city's liveliest areas with stylish shops, restored marketplace, bars, open-air cafes and street entertainers in the piazza.
The East End has a vibrant artistic scene, one of London's hippest districts with contemporary bars, restaurants, shops and markets. Greenwich, to the south and east is home to the Meridian Line, at the Royal Observatory, the National Maritime Museum and the infamous Dome. In Holborn, buildings date back to the 15th century. This is London's legal epicenter. Islington is traditionally the home to non-conformist, actors, artists, journalist and politicians.
Mayfair is the elegant, Georgian, upscale residential area between Bond Street and Park Lane. It takes its name from the fairs held here each May in the 18th century. NottingHill in west London is famous for its annual August carnival--a riot of color and rhythm--plus many new fashionable bars, restaurants and the popular Portobello Road antique shops and market. Soho is home to Carnaby Street--the 60's center of fashion and a great cosmopolitan selection of restaurants, bars, clubs and other nightlife. The South Bank offers beautiful riverside walks, and the world's greatest concert and theater venues, plus the new British Airways London Eye.
The West End is London''s theater land with major cinemas, restaurants and main shopping areas, encompassing the streets around Mayfair, Westminster, Belgravia, Soho and Covent Garden. Look out for Piccadilly Circus, Leicester Square, Trafalgar Square with its imposing Nelson's column, lions and fountains, and, of course, Changing the Guard at Buckingham Palace--now open to the public during the summer. Westminster is the seat of power, where you'll find The Houses of Parliament, Big Ben and the Westminster's Abbey and Cathedral, while Whitehall is the seat of Government and the Prime Minister's official residence: 10 Downing Street.